Rich Township GOP Committeeman, David Brooks, resigns, citing "inner conflicts"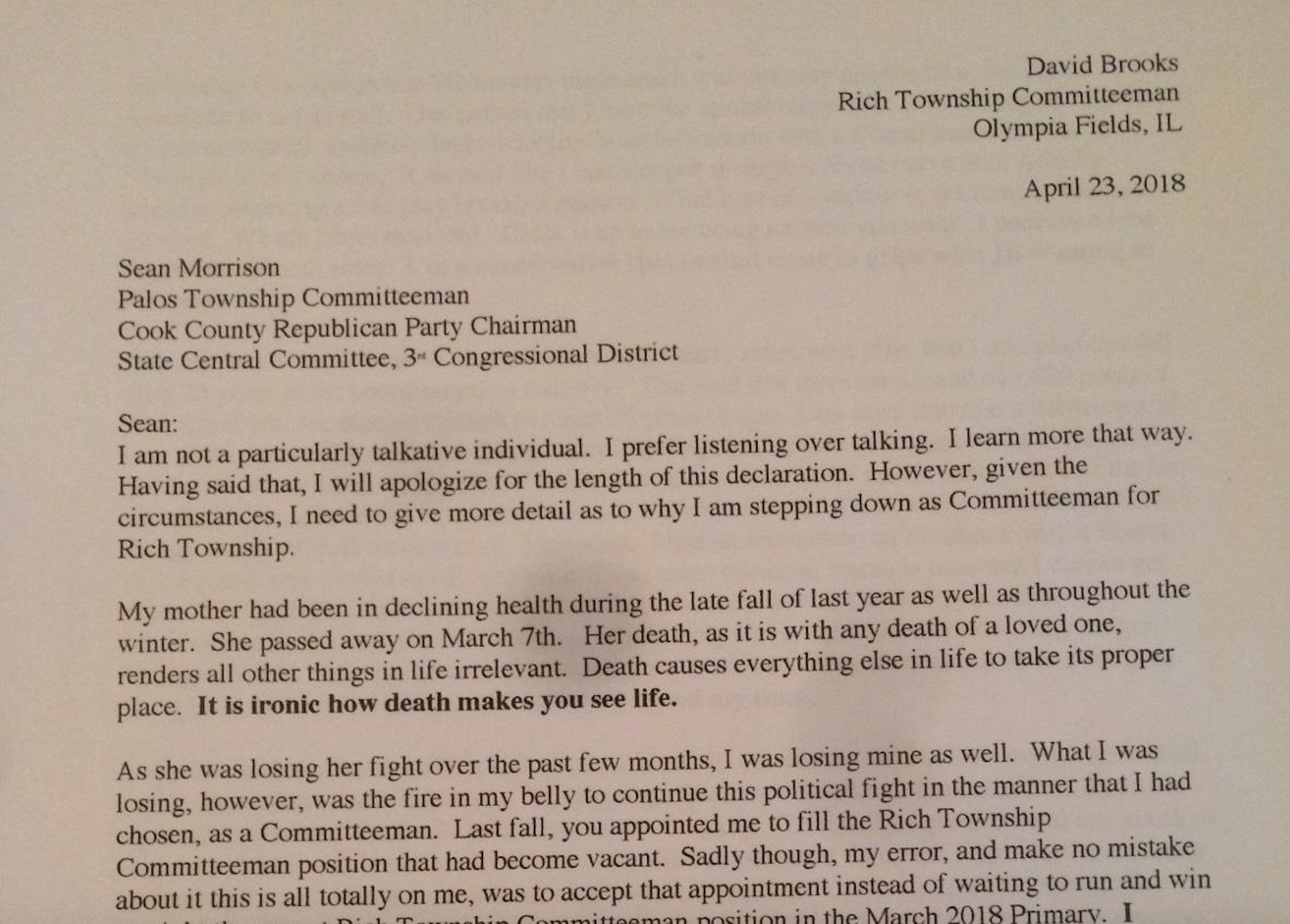 Rich Township GOP Committeeman David Brooks was appointed by Cook County GOP Chairman Sean Morrison last fall. He resigned today.
Citing "repeated inner conflicts that I could no longer ignore," Rich Township's Republican Committeeman David T. Brooks has tendered his resignation after just eight months in the post, according to a letter obtained by South Cook News.
Cook County Republican Chairman Sean Morrison appointed Brooks, 60, a retired pharmaceutical executive from Olympia Fields, to the vacant position last September.
Rich Township GOP Committeeman David Brooks is resigning, effective Aug. 7 | Linkedin
In the letter, addressed to Morrison, Brooks suggested that he shouldn't have accepted Morrison's appointment but, rather, should have waited to run for the open seat in the GOP primary election last month.
"I misread someone, as well as my situation badly," Brooks wrote, adding that he "remained loyal to those that first appointed me" but suggesting that he regretted feeling obligated to do so.
Brooks, who supported State Rep. Jeanne Ives (R-Wheaton) in her primary challenge to Gov. Bruce Rauner, said that some in party leadership gave him "incredulous looks" when he told them he was backing Ives.
"I was asked questions as to why," he wrote. "Because (Ives) is a solid individual, that's why."
Brooks complained of a "lack of civility and respect from member to member," but said he believes the party will emerge "united, stronger, and better" for Ives' primary challenge.
"My deepest regrets and apologies are reserved for the voters across Rich Township who took the time to go to the polls in March to put an "X" by my name," he wrote. "You deserve a committeeman who has a reciprocal level of 'want to' and drive."
In the March primary, 17,260 Rich Township Democrats cast ballots in the primary versus just 1,266 Republicans.
Ives defeated Rauner in Rich Township, 50.4 percent to 49.5 percent.
Running unopposed for Rich Township GOP Committeeman, Brooks received 921 votes.
Brooks replaced Israel Smith, who moved to Mokena.
Smith had replaced longtime Rich Township Committeeman Pat Barr in 2013.
Rich Township GOP turnout has steadily dwindled.
In the 2010 GOP gubernatorial primary between Bill Brady, Kirk Dillard, Adam Andrzejewski, Andy McKenna, Jr., Dan Proft, Jim Ryan and Bob Schillerstrom, 1,825 ballots were cast in Rich Township.
In the 2006 GOP gubernatorial primary between Judy Baar Topinka, Bill Brady, Jim Oberweis, Ron Gidwitz and Andy Martin, 1,803 ballots were cast in Rich Township.
In the 2002 GOP gubernatorial primary between Jim Ryan, Patrick O'Malley and Corrine Wood, 2,596 ballots were cast in Rich Township.
Rich Township includes 59,494 voters from Matteson (26%), Park Forest (19%), Richton Park (18%), Flossmoor (12%), Country Club Hills (10%), Olympia Fields (6%), Tinley Park (4%), Homewood (3%) and Hazel Crest (3%).
It is represented in Springfield by state Reps. Al Riley (D-Olympia Fields), Anthony DeLuca (D-Chicago Heights) and Will Davis (D-East Hazel Crest); and state Sens. Michael Hastings (D-Orland Park), Toi Hutchinson (D-Olympia Fields) and Napoleon Harris (D-Harvey).
Brooks resignation is effective May 7.
Want to get notified whenever we write about any of these organizations ?
Next time we write about any of these organizations, we'll email you a link to the story. You may edit your settings or unsubscribe at any time.
Sign-up for Alerts
Organizations in this Story
Rich Township • Rich Township Republican Organization
More News