VILLAGE OF EVERGREEN PARK: Village Clerk Cathy Aparo Inducted Into EPCHS Hall of Fame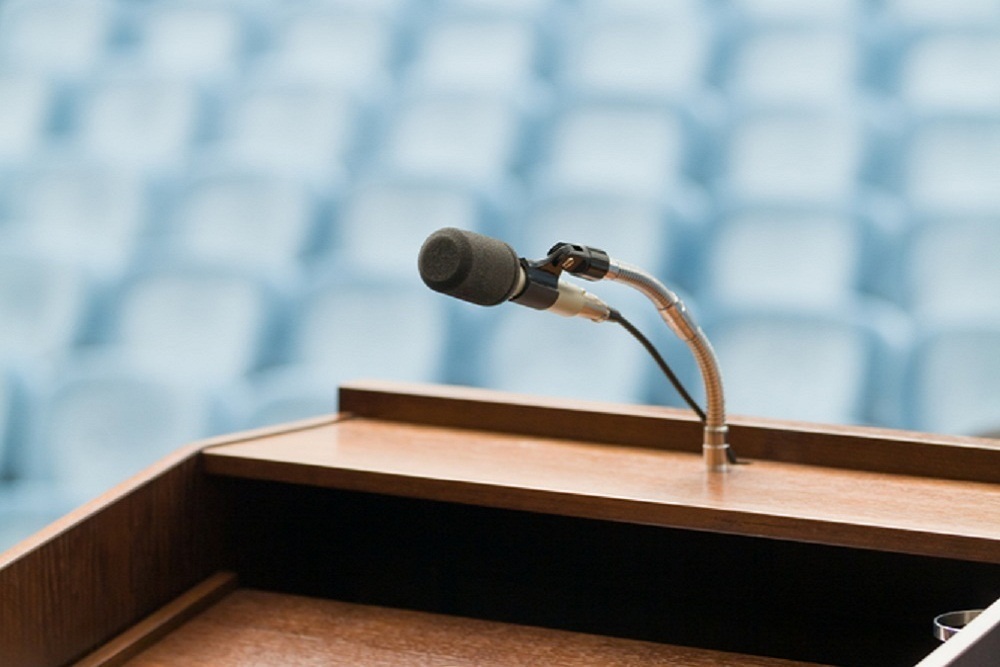 Village of Evergreen Park issued the following announcement on May 10.
These are words I never thought I would be saying. Thank you Evergreen Park High School and to the nominating committee and to my family, friends and colleagues who contributed on my behalf for this wonderful honor. I am almost speechless.
I didn't know it when I graduated from Evergreen Park High School in June of 1973 but the Karma train was coming and I was going for a ride and it finally arrived here tonight, May 6, 2019.
I didn't have one teacher that helped me reach my potential in high school. I had many. Many of the Hall of Famers impacted my life during high school and beyond. Miss Inman was our Disciplinarian and the Dean of students, Mr. Dystrup was my senior Government teacher, Miss Wax was my Sophmore gym teacher, Mrs. Budding was my school nurse and Mr. Oberto taught Guitar 101. High School was a great time to try many different classes. I also had the pleasure of going to school with many of the other Hall of Famers.
I was an above average student, but honestly only in the classes I liked. I was in Quill and Scroll, Girls Athletic Association, Journalism, Drama Club, Home EC club and I even became an Audio Visual Aid. Only because they had total access to anywhere in the school. Who needs a hall pass when you are pushing a projector?
At our 45th reunion last year many teachers were remembered for their mentoring and others for their tormenting.
My brother Tab had been in the school band so I figured I had to have musical talent too. But, I was wrong. Mr. Oberto, who wrote the school song and managed the
Mustang band, taught Guitar. He made it look so easy. After just a few weeks of class he took me aside and told me very bluntly, "Cathy there are 2 kinds of people in this world - people who belong on stage in the band and people who belong in the audience."
I gave my guitar away after that class.
Mrs. Evans, my Home Economics teacher took pity on me during the sewing portion of our class. She broke her own rule. She allowed me to take my project home for outside help. I had made the ugliest green corduroy jumper with 3 darts on one side and none on the other. When they came to pick up donations at my house they took everything but left my dress.
Miss Inman was our Dean of students. As a freshman, new to the Attendance Office, I explained to Miss Inman that I hated all the rules we had to follow. Many of them were outdated and redundant. As students in the 1970's we protested everything. We fought for a smoking lounge and won. We protested and disbanded the school dress code. I spent a lot of time bending the rules and testing poor Miss Inman to her breaking point.
Since I could remember, I wanted to be a writer and tell wonderful stories that would touch people's hearts and minds. I loved being on the Mustang Monitor, the school paper and later being the editor of the feature page. I learned a lot from our advisor, Mr. Bob " Papa" Zweig. We developed brainstorming sessions for new ideas for stories.
I loved the constant deadlines and the excitement of writing something everyone
would read. A few times I was called into Dr. Storkel's office, the Superintendent for something I wrote that parents actually read and enjoyed. Other times for writing something not so appreciated.
Karma has a way of making a point with a velvet hammer. For the past 34 years I have worked in local government at the Village of Evergreen Park. Since 2001, I have served as an elected official on the Village Board that makes all the rules. I serve with a wonderful Board of ethical, honest politicians, especially our Mayor Jim Sexton.
I also serve with many EP alumni, Deputy Clerk Kim Cericola, Trustee Mark Marzullo and Mark Phelan and Police Chief Mike Saunders, Fire Chief Ron Kleinhaus and Public Works Director, Bill Lorenz and many more. As the Village Clerk, I have written a book every year for the past eighteen years.
Sure it's the minutes of the Board meetings but it is still a book.
I have been extremely blessed in life. I am blessed to have great parents who are the basis for everything good that I have accomplished in life. I inherited my Mom's wonderful sense of humor and my Dad's tremendous work ethic. They were supportive and nurturing. My parents were the original Mustang Boosters. My folks celebrated every victory and endured the agonizing defeat of that legendary 1965 football season. All three of my brothers, Charlie, Teke and Tab graduated from EP. My niece Jenny and my cousins John, Kim and Barb went here too.
But most of all, I was blessed to have met my best friends in high school. They are a small but mighty force in my life and have become my extended family. I call them my FRAMILY because they are more than friends and more than family. They have traveled life's journey with me for over 50 years. They are here tonight to celebrate this honor and they know how much I treasure each and every one of them.
I congratulate and commend all the students receiving awards tonight for their achievements. Take it from someone who has lived this. High School is wonderful and a fantastic foundation to build upon for the rest of your life. But don't let this become your best four (4) years of your life. Your potential is limitless. In 1973, I was voted Class Funny Girl. If these were my best four years, that's all I could have ever been.
There is a whole big wide world outside these doors, participate, don't stagnate. Don't compare yourself to anyone; there will always be someone who is smarter, taller, thinner, stronger, prettier and younger. But there is only one you with your particular personality and your unique gifts. Your path will not be a straight line from point A to point B.
I guarantee everyone will have failure and setbacks. But you will also learn more from the hard times than the easy ones. It will make your success all the sweeter.
I know these things to be true. Everyone you meet has a story. Learn from them. Listen more and talk less. Don't compromise. Your integrity is everything. Mean what you say and say what you mean. When all else fails, laugh at yourself, often. Find a job that allows you to use all your talents and expands you past a paycheck and it will never feel like work.
As Mark Twain said, "Twenty years from now you will be more disappointed by the things that you didn't do than by the ones you did do." So throw off the bowlines. Sail away from the safe harbor. Catch the trade winds in your sails.
Explore. Dream. Discover. "
I wish for each and every one of you a life lived without regrets. Thank you for this tremendous honor that I will cherish forever.
May God Bless you all and GO MUSTANGS.
AND FOR CHRIS... GO HAWKEYES!
Original source can be found here.
Source: Village of Evergreen Park
Want to get notified whenever we write about
Village of Evergreen Park
?
Next time we write about Village of Evergreen Park, we'll email you a link to the story. You may edit your settings or unsubscribe at any time.
Sign-up for Alerts
Organizations in this Story
More News